Welcome to Power's Pharmacy
We're glad your here! Stay awhile! If you have any questions, please feel free to drop us a line anytime!
We have been serving the Pemberton Township and Browns Mills area for over 23 years.
Our new On-Line Prescription Refills will save you time and add convenience to your life. With the addition of our delivery service, you do not have to leave home to receive your refills.
We Provide -- PROMPT, COURTEOUS and PROFESSIONAL SERVICE.
We use state of the art practices, techniques and technology to meet your needs with the best in pharmacy care.
ScriptPro® Robotic Prescription Dispensing System

Our pharmacy offers specialized prescription compounding to meet your every need.
We can flavor prescriptions when necessary to provide a more desirable solution for Pediatric, Adult and Senior prescriptions.
In what may be a surprise to you, we offer prescription compounding and flavoring for veterinary prescriptions. Many times compounding is the best way to meet your pet's needs. And as we know with pets - flavoring can make for a much easier treatment schedule.
Power's Pharmacy accepts most prescriptions plans and proudly participates in the military's Tricare Plan. We are an approved Medicare Provider.
Power's Pharmacy carries a wide array of surgical supplies and durable medical equipment.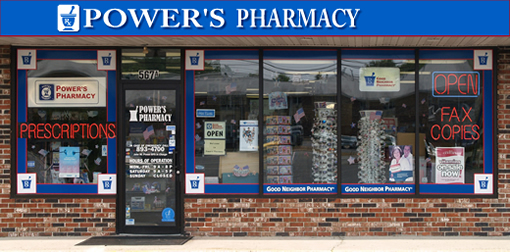 Hours of Operation
Please come in and see us during the following hours:

Open Monday through Friday

9:00 a.m. - 8:00 p.m.
Saturday

9:00 a.m. - 5:00 p.m.
Sunday - Closed
User Login
If you are a registered user, please enter below:

We provide prompt, courteous and professional service.
- Power's Pharmacy